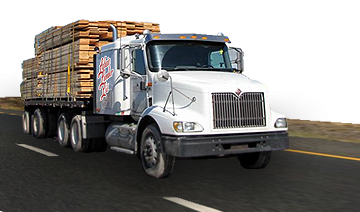 Ordering and Delivery
Delivering the Savings to Your Construction Site
Lahaie Lumber ships out products from our facilities in Alban, Ontario. Locally, delivery is available throughout the City of Greater Sudbury, to Killarney in the West, Sturgeon Falls in the East and Parry Sound in the South.
Delivery to other regions is possible. Please call us for rates to your area.

Payment Terms and Methods
Most retail orders are C.O.D. and for your convenience, we accept payments by cash, bank draft, certified cheque, and process VISA™ and MasterCard™ credit cards either in person or by phone.
Custom orders require a 50% deposit with balance due on delivery. 30 day terms are available for larger, wholesale orders and established accounts. Please call us for details.
Click here
for a quote or to contact us for more information.